BGCSTL Will Have Summer Day Camp!
---
Boys & Girls Clubs is planning to have summer day camp in 9 locations across MO & IL to serve as many children ages 6-18 as possible! The eight week camp will be from June 12 – August 4, 2023.  We offer one of the most affordable, safe and fun summer camp programs in the region.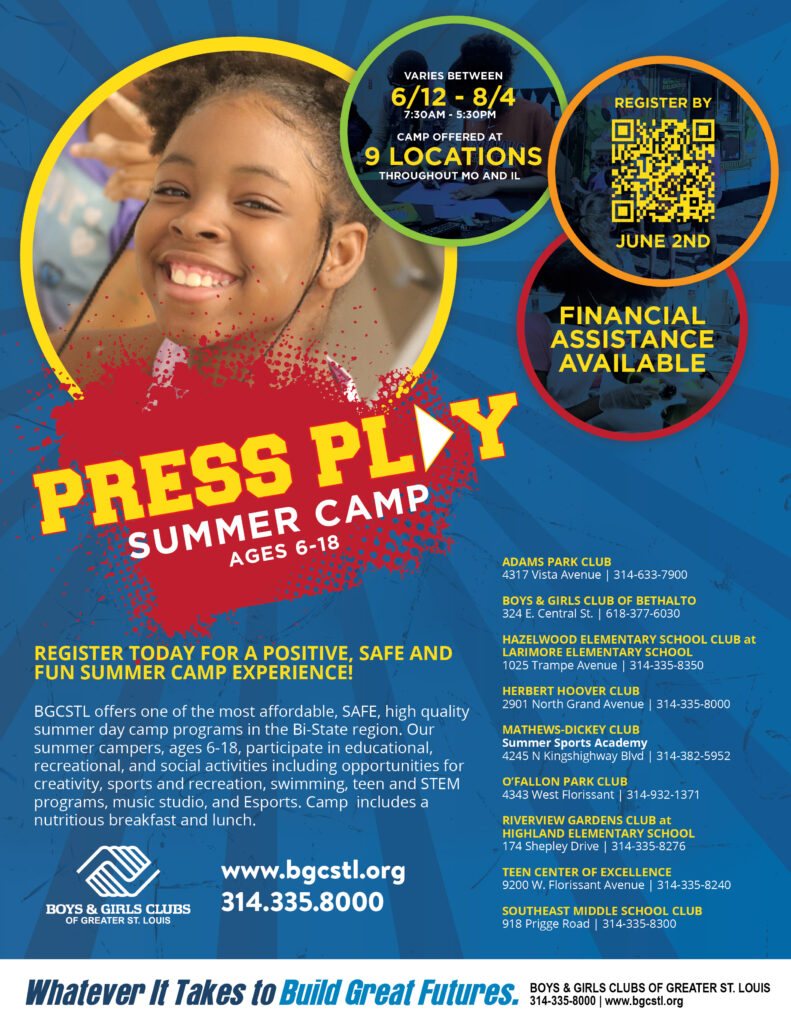 Join the Fun!
---
Register today for a positive, healthy and FUN summer camp experience!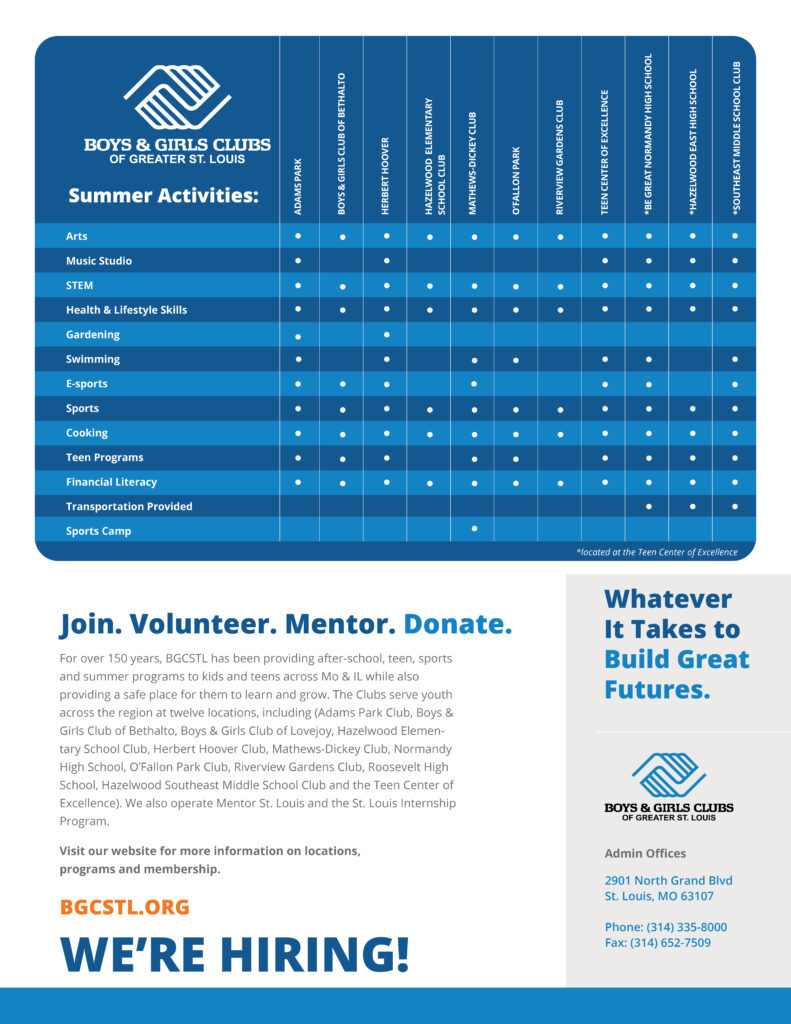 Boys & Girls Clubs of Greater St. Louis (BGCSTL) is excited to be able to bring area kids and teens another summer of friends, activities and exploration, the way only Boys & Girls Clubs can. You can be assured that we are operating in accordance with all health and safety protocols and that we will continue to do whatever it takes to give your child the best summer experience possible.
BGCSTL offers one of the most affordable, SAFE, high quality summer day camp programs in the Bi-State region. Our summer campers, ages 6-18, participate in educational, recreational, and social activities including opportunities for creativity, sports and recreation, swimming, teen and STEM programs, music studio, and Esports, an organized form of competitive tournaments with video games where players face teams. Or, most commonly, a multiplayer online video game competition). Camps also includes a nutritious breakfast and lunch.
Summer campers who are interested in writing, producing or singing will enjoy our Music Studio program where they will be fully engaged in the songwriting/ recording process and create a song from start to finish. While youth who aspire to become coders, graphic designers, 3D animators or game developers will have access to the Best Buy Teen Tech Center at our Herbert Hoover Club. The center is an interactive and innovative fully equipped space with everything needed to engage youth ages 12-18 with STEAM activities including a music studio, 3D printer, t-shirt press maker, coding stations, state of the art computers, monitors and virtual reality headsets.
Until camp begins, our Boys & Girls Club locations across the Bi-State region continue to be open offering after school programs, virtual mentoring, sports activities & more! To find the Club nearest you, visit www.bgcstl.org or call 314-335-8000. If you're looking for a chance to impact the lives of kids and teens, WE ARE ALSO HIRING! Visit bgcstl.org for more information.
To register for camp, click here. Dates to the right of this message. 2023 camp fliers BELOW.
REGISTER HERE.
2023 Camp Locations
Adams Park Club
(4317 Vista Ave., 63110)
June 12 – August 4, 2023
7:30am – 5:30pm
Ages 5-16
$275 (Plus $25 Membership Fee)
Bethalto Boys & Girls Club
(324 E. Central St. Bethalto, IL 62010)
Session #1:  June 12 – July 7, 2023/Session #2:  July 10 – August 4, 2023
8 am – 5:30pm
Ages 6-16
$665/per session ($25 Membership Fee)
Herbert Hoover Club
(2901 N. Grand Ave., 63107)
June 12 – August 4, 2023
7:30am – 5:30pm
Ages 5-16
$275 (Plus $25 Membership Fee)
O'Fallon Park Club
(4343 West Florissant, 63115)
June 12 – August 4, 2023
7:30am – 5:30pm
Ages 6-16
$275 (Plus $25 Membership Fee)
Mathews-Dickey Club
Summer Sports Academy
(4245 N Kingshighway, 63115)
June 12 – August 4, 2023
7:30am – 5:30pm
Ages 6-16
$275 (Plus $25 Membership Fee)
Hazelwood Elementary School Club at Larimore Elementary School
(1025 Trampe Rd., 63136)
June 12 – July 28, 2023
7:30am – 5:30pm
Ages 6-12 (Grades 1st – 5th)
$250 (Plus $25 Membership Fee)
Riverview Gardens Club at Highland Elementary School
(174 Shepley Drive, 63137)
June 12 – July 28, 2023
7:30am – 5:30pm
Ages 6-12 (Grades 1st – 5th)
$0 (Plus $25 Membership Fee)
Southeast Middle School Club
(918 Prigge Road, 63138)
June 12 – July 28, 2023
7:30am – 5:30pm
Ages 11-15 (Grades 5th – 8th)
$250 (Plus $25 Membership Fee)
Teen Center of Excellence
(9200 West Florissant, 63136)
June 12 – August 4, 2023
7:30am – 5:30pm
Ages 10-18
$275 (Plus $25 Membership Fee)