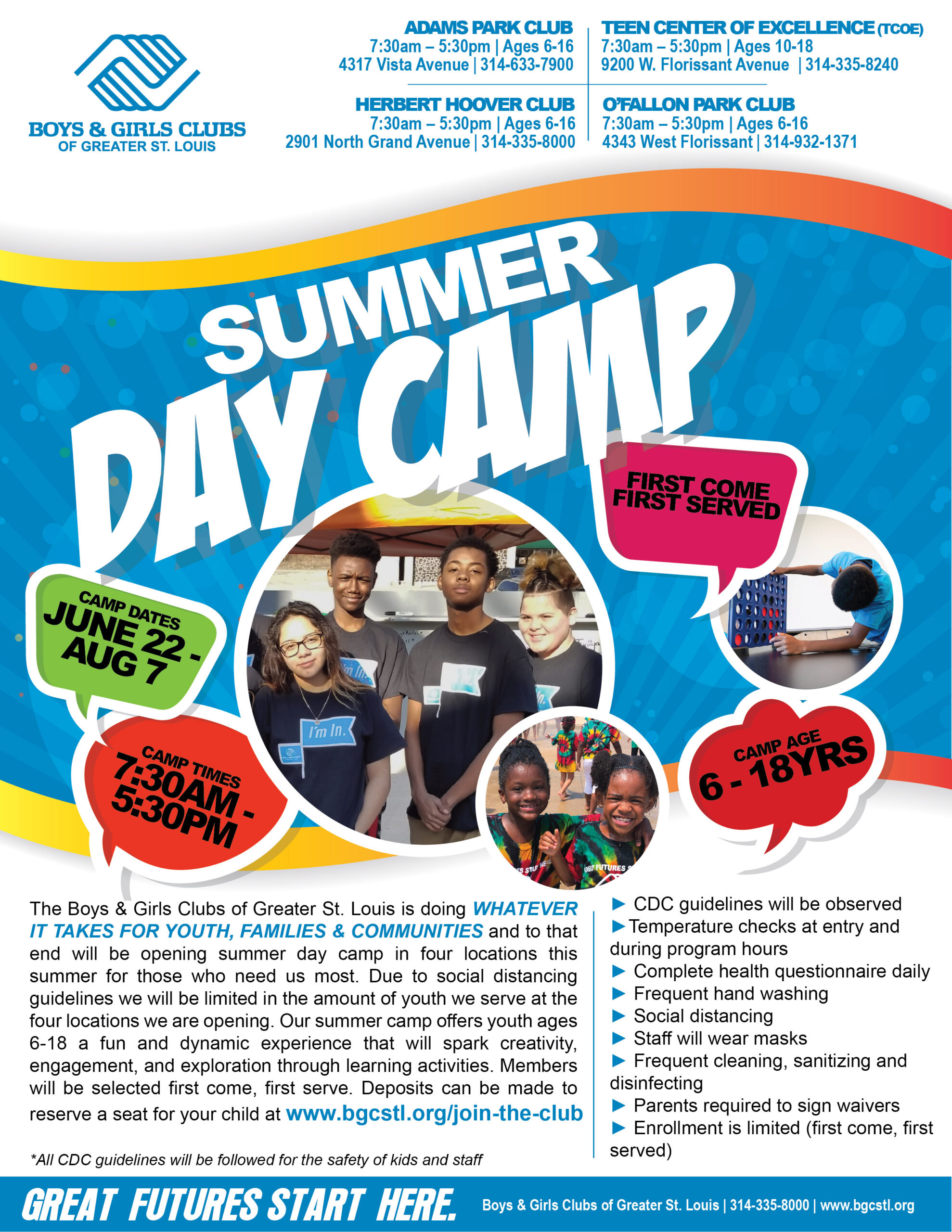 Join the Fun!
---
Plans are moving forward to operate summer camps for as many children possible in as many locations that we can confirm. Deposits can be made to reserve a seat for your child here. We are working diligently with area school districts, elected officials and health care providers to determine the parameters under which we can and will operate. Stay tuned. Parent Waiver, click here.
Boys & Girls Clubs of Greater St. Louis (BGCSTL) offers one of the most affordable, comprehensive, extended, high quality summer day camp programs in the St. Louis region. Our summer campers, ages 6-18, are exposed to a variety of learning and participate in educational, recreational, and social activities as well as field trips, social recreation, and cultural activities on-site and in the community. Camps also includes a nutritious breakfast and lunch.
BGCSTL will have summer camp offering youth what they need and want most: trained professional staff who respect and listen to them; a safe environment where they can have fun and be themselves; and interesting, constructive activities that channel youth energy into challenging pursuits. Summer will truly be a fun and dynamic experience that will spark creativity, engagement, and explorations! Swimming, teen and STEM programs, college and career readiness programs, sports as well as field trips are just a few of the things campers can experience.
Summer campers who are interested in writing, producing or singing will enjoy our Music Studio program led by Grammy Award-winning producer/songwriter Alonzo "Zo" Lee. Students will be fully engaged in the songwriting/ recording process and create a song from start to finish. While youth who aspire to become coders, graphic designers, 3D animators or game developers will have access to our newly opened Best Buy Teen Tech Center at our Herbert Hoover Club. The center is an interactive and innovative fully equipped space with everything needed to engage youth ages 12-18 with STEAM activities including a music studio, 3D printer, t-shirt press maker, coding stations, state of the art computers, monitors and virtual reality headsets.
To register for camp, click here. Or, to download the summer application, click here. Dates to the right of this message.
Club Member Guide to a Fun & Safe Summer, click here.
Summer Camp Registration Instructions: