Become a Mentor
For more information about this program or to become a Mentor contact Laura Gregory at 314-335-8141 or laurag@bgcstl.org.
If you'd like to make a donation to Mentor St. Louis, we would be grateful! To make a donation and for more information,
click here
.
Mentors fill an important role in the life of a young child – Sign up TODAY!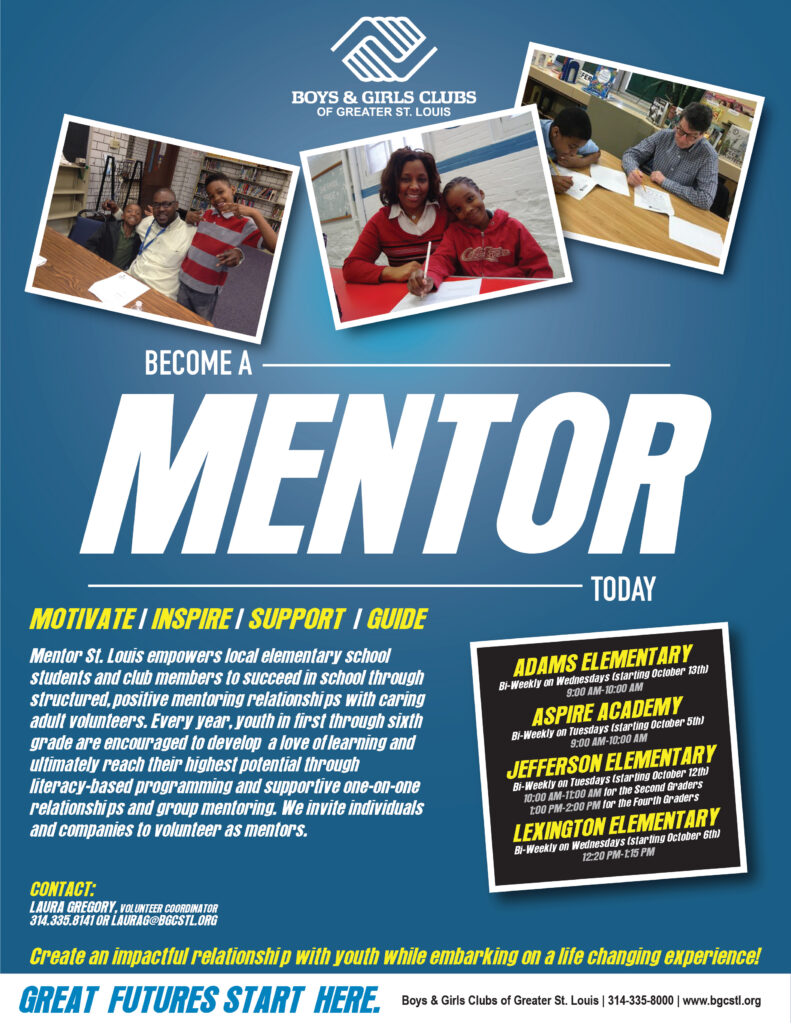 Mentor St. Louis (MSL), a school based program, which empowers local elementary school students and Club members to succeed in school through structured, positive mentoring relationships with caring adult volunteers. Every year, youth in the first through six grade are encouraged to develop a love of learning and ultimately reach their highest potential through literacy-based programming and supportive one-on-one and group mentoring. Mentors reinforce the value of education and life skills with regular visits which adds another dimension to a youth's school experience.
MSL's program is unique because every mentoring session is thematically connected and thoughtfully linked to the mentee's school work and the common core standards for their grade level. We also have the goal to emphasize community responsibility, future career goals, diversity and being creative and innovative.
We invite you to become a mentor through our Mentor St. Louis Program, and to experience some of these life changing moments with our youth:
"Being a mentor is one of the greatest gifts I could ever give because I get the opportunity to influence youth, even if it's small, to reach for those goals and dreams that they have."

-Jefferson Elementary School Mentor-

 

"I love my mentor because she helps me with my school work and makes me see life differently. She's very smart."

-Farragut Elementary School Mentee-
Mentor St. Louis currently serves students at Adams Elementary, Aspire Academy, Farragut Elementary, and Jefferson Elementary Schools. The site-based model allows Mentor St. Louis to monitor and support the growth of each mentoring relationship, making certain that a successful relationship is achieved by all.