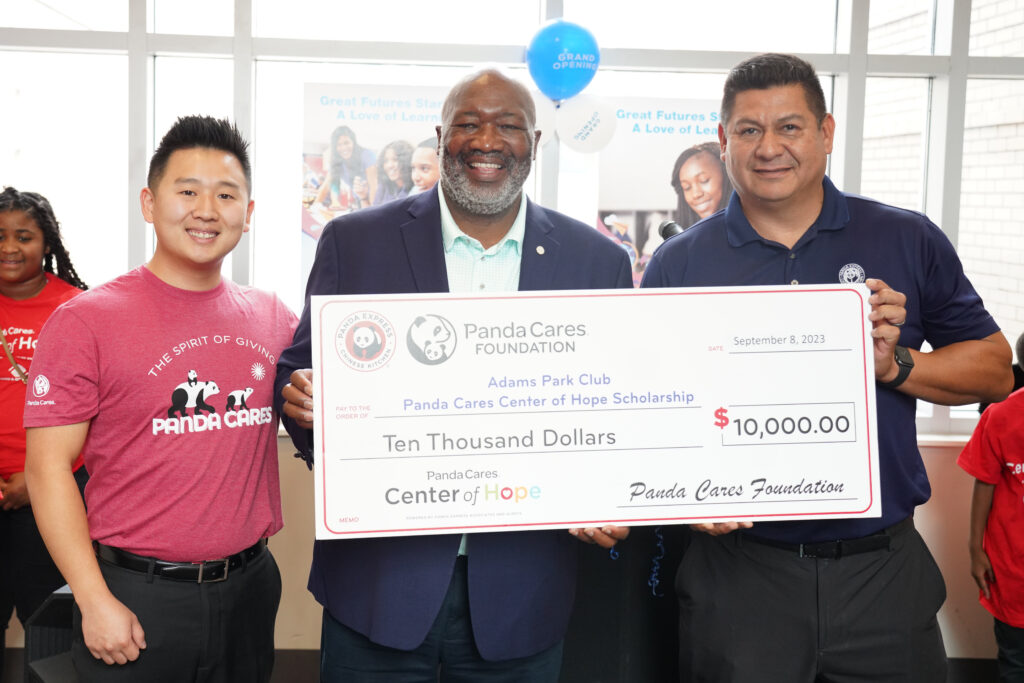 Photo by Wiley Price l St. Louis American
Originally published on www.stlamerican.com
Boys & Girls Clubs of Greater St. Louis (BGCSTL) and Panda Cares decided to bear down and create the Center of Hope, a culinary and arts space at the Adams Park Club, 4317 Vista Ave. in Tower Grove.
The Center of Hope will provide resources and support through Project Learn, which teaches youths different high-yield and enrichment programs that foster learning toward character building, academic success, and college access, according to Flint Fowler, BGCSTL president.
"Thank you, Panda Cares, for your partnership and supporting the Boys & Girls Club's mission. The new Center of Hope will positively impact club members," said Fowler.
---
Panda Cares, the philanthropic non-profit arm of Panda Express, presented Boys & Girls Clubs with a $10,000 check for the Center of Hope. Panda Express General Manager Tim Chung and Area Coach of Operations/District Manager Leonardo Morales shared free books, and a meal from a local Panda Express with BGCSTL members.
The $10,000 award is an academic scholarship awarded to high school seniors graduating from the COH. Students pursuing an undergraduate degree must enroll full-time at an accredited college or university. The scholarship will be awarded to a minimum of four students, $2500 each. Requirements include:
Demonstrated financial need – verified by the Club
Possess a minimum GPA of 3.0 on a 4.0 scale
Plan to be enrolled as a full-time freshman in the fall of the upcoming year attending a US located, four-year, accredited college or university
Scholarship funds are only to be used for education
In April, Boys & Girls Clubs of America, announced a three-year partnership with the Panda Cares Foundation, which has committed $10.6 million in 2023 to support academic success and positive outcomes for young people.
Since 2020, the Foundation has provided more than $20 million in support to enhance academic programming for Boys & Girls Club youth across the country.
By the end of 2023, the partners will have opened 70 Panda Cares Centers of Hope nationwide providing positive spaces for youth to learn and grow.
Through Project Learn, the Panda Cares Foundation provides funding for youth-centered learning in Boys & Girls Clubs across the country.
---
It Focuses on five main pillars including homework help and tutoring, high yield learning activities, family and community involvement, motivation and incentives and school partnership.
This approach will empower kids and teens to build their character and leadership during their time at the Club.
"Boys & Girls Clubs of America is on a mission to ensure all kids and teens have access to impactful learning experiences and opportunities that enable them to reach their full potential," said Chrissy Chen, National Director of Youth Development Programs at Boys & Girls Clubs of America.
"Thanks to the support from Panda Cares Foundation, our Club professionals will have evidence-based guidance to support academic success programs with a youth-centered learning approach that has a meaningful impact on youth."
BGCSTL provides after-school, teen, sports, and summer programs to youth across the Bi-State Region. The Clubs serve youth across the region at 12 locations, including Adams Park, Bentwood Townhomes Bethalto Club, Lovejoy Club, Hazelwood Elementary School Club, Herbert Hoover Club, Mathews-Dickey Club, O'Fallon Park Club, Riverview Gardens Club, Hazelwood Southeast Middle School Club, and the Teen Center of Excellence). We also operate Mentor St. Louis and the St. Louis Internship Program.
For more information, click here.