CASINO NIGHT
To Benefit Youth at the Boys & Girls Clubs of Greater St. Louis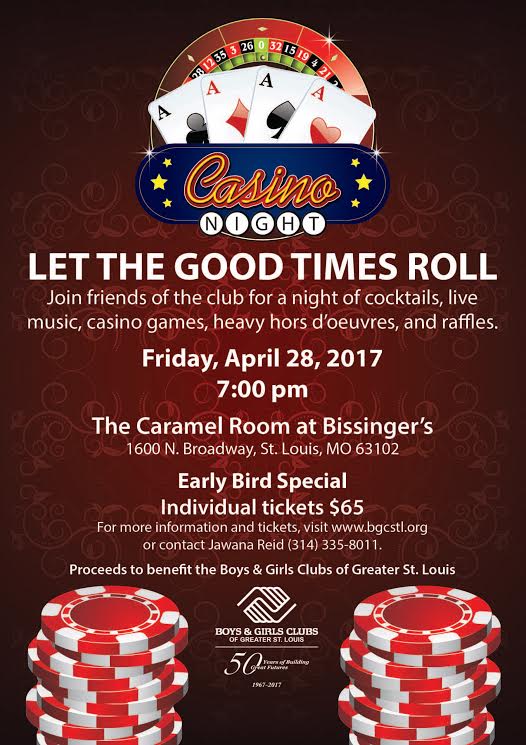 Friday, April 28, 2016
The CARAMEL ROOM at Bissinger's*1600 North Broadway St. Louis, MO 63102*7 pm
Join the "Friends of the Club", the young professionals group of the Boys & Girls Clubs of Greater St. Louis, at Casino Night – an evening of casino games, live music, heavy hors d'oeuvres and tons of fun! The event will be held on April 28th at the Bissinger's Caramel Room at 7 pm. One hundred percent of the proceeds give over 7,000 kids great futures!
For fifty years, the Boys & Girls Clubs of Greater St. Louis has provided after school, teen, summer and sports programs to youth ages 6-18. As part of membership, youth also benefit from free on-site dental and vision care. Boys & Girls Clubs proven youth development programs empower the kids we serve to make positive choices that will lead them to successful adulthood and civic engagement and give them a great future.
For more information, or to purchase your tickets ($65 per person), visit www.bgcstl.org/casinonight.
Calendar Format:
Casino Night hosted by Friends of the Club
April 28, 2016 at 7 pm
The CARAMEL ROOM at Bissinger's*1600 North Broadway St. Louis, MO 63102
www.bgcstl.org
About the Boys & Girls Club of Greater St. Louis
The mission of the Boys & Girls Club of Greater St. Louis is to inspire and enable youth to realize their full potential as productive, responsible and caring citizens. The Clubs now serve St. Louis youth at ten locations (Adams Park Club, Ferguson Middle School Club, Grannemann Elementary School Club, Herbert Hoover Club, Lee Hamilton Elementary School Club, O'Fallon Park Club, Riverview Gardens Club and Hazelwood Southeast Middle School Club), within two High Schools (Normandy and Roosevelt High School) as well as five additional elementary schools through our Mentor St. Louis Program. The Clubs are open during hours that kids are most likely to need a safe place to go — after school and during summer.
###