Become a Mentor
For more information about this program or to become a Mentor contact Syerra Meadows-Haynes at 314-335-8142 or syerra@bgcstl.org.
If you'd like to make a donation to Mentor St. Louis, we would be grateful! To make a donation and for more information, click here.
Mentors fill an important role in the life of a young child – Sign up TODAY!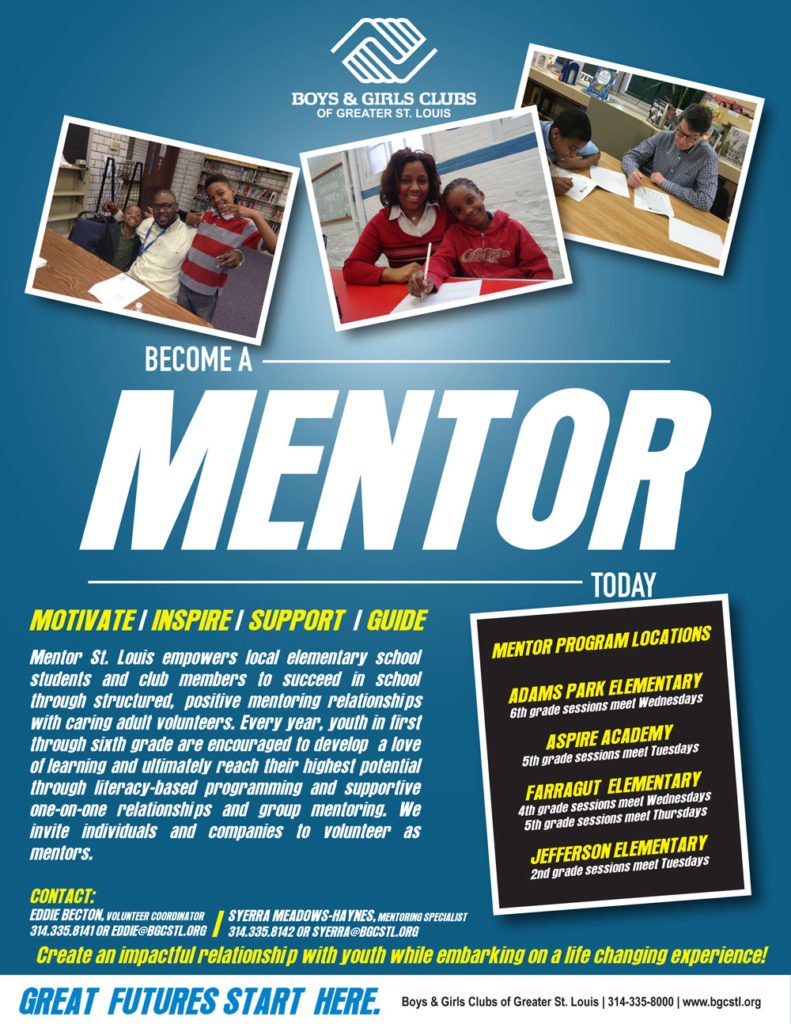 A mentor can provide the unconditional support and acceptance that will promote positive self-esteem and confidence in a child. In the school-based setting of the Mentor St. Louis program (MSL), mentors reinforce the value of education and a mentor's regular visits bring an added dimension to a child's school experience.
MSL empowers St. Louis elementary school students and Club members to succeed in school through structured, positive mentoring relationships with caring adult volunteers. Every year, more than 300 youth in first through sixth grade are encouraged to develop a love of learning and ultimately reach their highest potential through literacy-based programming and supportive one- on-one relationships.
MSL's programming is unique in that it reaches out to at risk children as early as first grade in order to enhance literacy and encourage self-esteem as early as possible. All of the mentoring sessions are thematically connected and thoughtfully linked to the child's own school work. Themes of family, community, career, heritage, financial responsibility, goals and diversity are emphasized.
We invite you to become a mentor through our Mentor St. Louis program. Here's what some of our mentors are saying about how enriching and important this experience is for them:
Tammy (USDA) – "I've mentored for 15 years because I love what I do and it really makes a difference in the lives of kids, and mine too!"

Rich (Entrepreneur) – "If anything, this is a labor of love. The kids I mentor bring as much to the table as I do."
And, a few quotes from our mentees:
Pierre – "When our relationship started in elementary school, my mentor "J" told me that he believed in me and that if I worked hard, I could achieve what I wanted to. This was so important for me because I didn't always have a father figure around to share with me those ideas."

Trinity – "I can always rely on my mentor to help me with school or to even help me understand things better. I love her."

Jaquay – "My mentor challenges me to be the best and to always do my best."
Mentor St. Louis currently serves kids at Aspire Academy St. Louis, Farragut, Jefferson, and Adams Elementary Schools. MSL provides a unique resource to ensure that at this critical stage of academic development, students are encouraged to develop a love and appreciation for learning.The site-based model allows Mentor St. Louis to monitor and support the growth of each mentoring relationship, making certain that a successful relationship is achieved by all.