The Boys & Girls Clubs of Greater St. Louis broke ground today on a $12.4 M Teen Center of Excellence in Ferguson, Missouri. Today, the community came together to witness the ground breaking which will offer afterschool and summer programs to teens and youth (ages 12-18) in the North County area. Expected completion date is 2019/20 school year.
"Building a Boys & Girls Club in the Ferguson area will produce positive outcomes in a community that has been subsumed with difficult realities and negative images. Adding a successful youth focused organization into Ferguson like Boys & Girls Clubs of Greater St. Louis, which has a long track record of success, can bolster young people's attitudes and give them a sense of hope. A new club will enrich our children's lives and the city by helping its youth build strong character, graduate from high school with a plan for life, and become productive citizens," said Dr. Flint Fowler, Boys & Girls Clubs of Greater St. Louis President.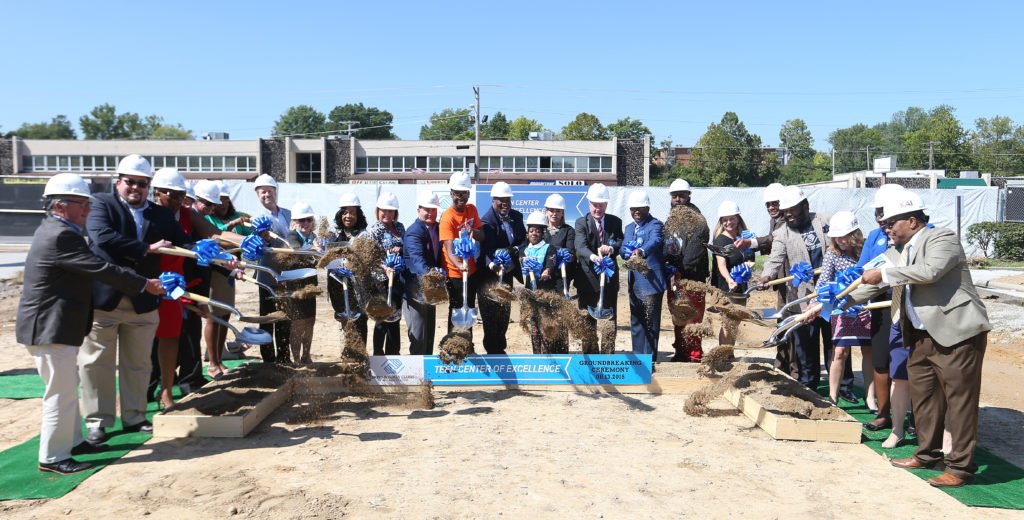 The Teen Center of Excellence, one of the first in the country, is being built on the site of the former Ferguson Ponderosa and will be 26,856 square feet, have three levels and include a nutrition education center, outdoor garden, gym, intellectual commons, teen lounge, auditorium, outdoor basketball and activity court, music and art studio, office space and innovation center.
The Boys & Girls Clubs of Greater St. Louis has a 50 plus year track record of success in the St. Louis region as a youth services provider and will implement nationally acclaimed programs at the new Teen Center similar to those offered in the ten locations it presently operates (seven of which are located in North County). Programming will include an emphasis on health & wellness (ie yoga, healthy habits, open gym), education & workforce development (ie college tours, ACT/SAT prep, tutoring), STEAM (ie coding, app creation, robotics) and, leadership & civic engagement (ie fine and performing arts, community service, applied arts).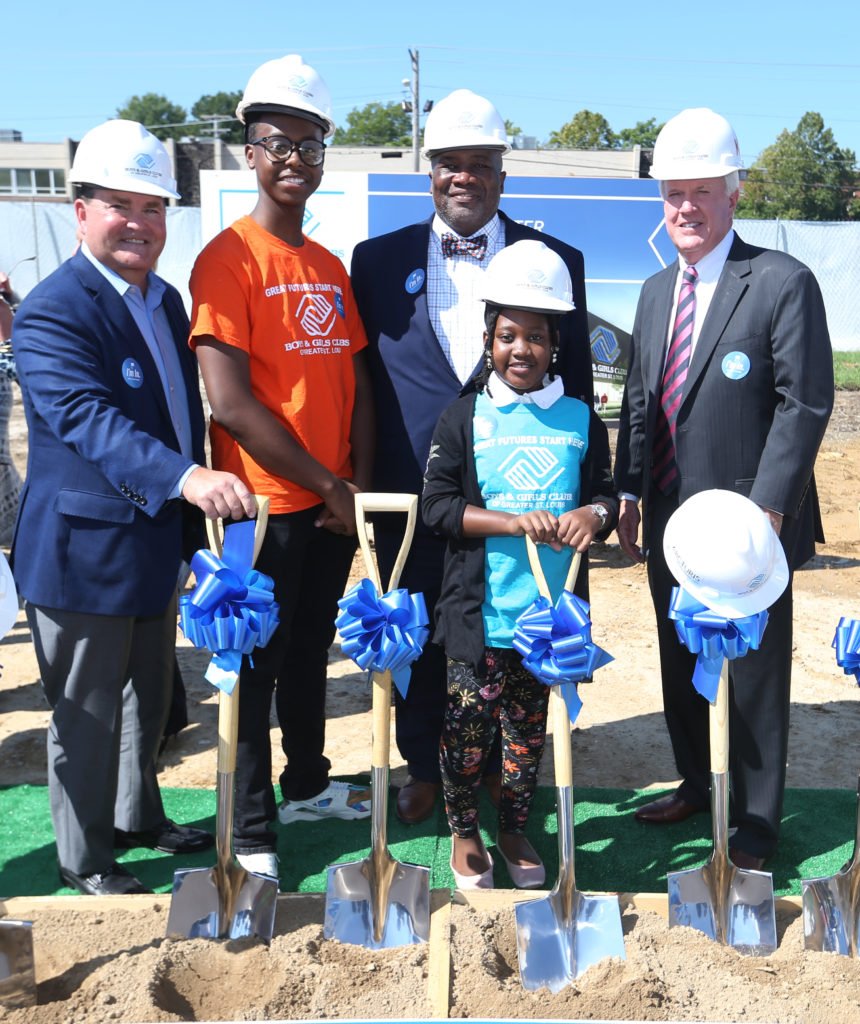 The breaking of ground for the new Teen Center also signifies the launching of the public phase of a fundraising campaign to complete the building project. The campaign, known as "A Place to Become", encourages donors and supporters to put their stake in the ground as a means to declare, "I'm In!" to support Ferguson and North County youth!
"A Place to Become" campaign will enable the Boys & Girls Clubs of Greater St. Louis to operate three new school-based Clubs and build a state-of-the-art Teen Center on West Florissant that will promote and deliver positive outcomes for teens. The three-pronged campaign plan ensures that we can make an immediate impact while establishing a long-term presence for generations of kids and teens in North County. The new clubs and dedicated Teen Center will be located in areas that provide the greatest access to those who need the Boys & Girls Club most.
Breakdown of Initiatives:
Build – TEEN CENTER $12.4 M
Build a new 25,000 square foot teen center to serve teens from across the St. Louis region.
Sustain – CONTINUED SERVICES $6.9 M
Sustain three new school-based Club sites for elementary and middle-schoolers.
Fund – SUSTAINABILITY FUND $5.7 M
Fund endowment growth, facility improvements and campaign expenses.
"We're In because few issues are more important than building the next generation. Our children and teens deserve a bright future where opportunities and success are within their reach. If they are guided and given the tools necessary to become productive, responsible and caring citizens, they will ultimately positively impact our communities, our economy and our neighborhoods. Building on the work we've done in St. Louis for over 50 years, We're In to help our children overcome barriers to success by helping them acquire the skills, abilities and knowledge needed to realize their full potential." Pat Sly (Honorary Campaign Chair and Executive Vice President, Emerson) & Dave Spence (Campaign Chair and Chairman, Legacy Pharmaceutical Packaging)
The construction company building the Teen Center of Excellence is KAI Design & Build, the architect is Arcturis and Striler Group is the Owners Rep.
Full photo album can be viewed via the following link – https://www.facebook.com/media/set/?set=a.10160927206425191&type=1&l=2eb24d273d