A SLIP Program Success Story
At BGCSTL, we boast about our programs, like the St. Louis Internship Program (SLIP), and we share the numbers to prove its' success. Celebrating more than 30 years of youth workforce development, we would like to share one of the program's early success stories.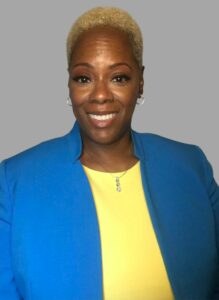 Trisha Gordon is one of those stellar reasons to brag about SLIP! You would never guess the challenges she overcame at a very young age.
Gordon was born at five and a half months with underdeveloped lungs, heart, and brain. The hospital nurse named her because her parents did not return for her immediately. Gordon said, "She named me – Trisha- which means loyal and committed."
Gordon did reside with her parents for a while but experienced years of abuse, neglect, and abandonment. She was homeless, placed in foster care, and attempted suicide before age 15. "I remember this day like it was yesterday. I was standing outside Mathews-Dickey when former SLIP lead Gladys Smith said, "What are you doing out here? Come in here and learn about this program!" Trisha went in. Photographers were there, and the Club's leadership announced the formation of SLIP.
"The program paired students with paid positions at area law firms at that time." Gordon added, "That is the day that changed my life!"
"I did a good job at the law firm, so I was able to continue working there after my first summer," Gordon said. She went on to work at the law firm during the summer and after school. Gordon recalled receiving her first payroll check of $651. "I will never forget it. I went out and bought myself a Dooney & Burke purse for $275. My foster Mom was livid!" Gordon said, "My foster Mom called my case worker and said the purse had to go, or I had to go because she was working too hard to put food on the table for me to buy an expensive designer purse."
A compromise allowed Gordon to keep the designer purse and she agreed to open a bank account and use her earnings to purchase her back-to-school clothes and supplies. "It was a valuable lesson in money management," said Gordon. Gordon's earnings from the law firm also financed her cap, gown, and other graduation items. She developed confidence and independence through SLIP. Gordon highlights the strong attributes she gained from her experience.
Responsibility – learned to utilize an opportunity to take responsibility for getting to work and effectively using public transportation to get to work
Education – gained first-hand knowledge of the law and the importance of pursuing post-secondary opportunities.
Financial Literacy— an opportunity to gain a better understanding of the educational requirements for attorneys
Intensive Workforce Development – Participated in SLIP's mock trial, giving Gordon hands-on skills for courtroom trial preparation.
Workforce Professionalism – Learned how to dress for success.
It wasn't just the intensive workforce development SLIP provided that enabled Gordon's success, but the supportive staff. Gordon recalls SLIP staffer Linda Reikes, who noticed her squinting to see one day. "She picked me up on a Saturday and took me for an eye examination and my first pair of glasses. Having that kind of support from an adult changed how I approached opportunities. I went into activation mode and took advantage of every opportunity that came my way," Gordon said.
Gordon did exactly that too. She was busy. Gordon was on the drill team, student government, cheerleading, and Upward Bound. Gordon later became a US Congressional House Page in Washington DC for Congressman William Clay Sr.
"I wasn't supposed to be at Mathews-Dickey that day, but I saw the kids over there all the time, and I was curious. So I went to see what they were doing."
Her curiosity about Mathews-Dickey gave her the tools and resources for a great future.
Today, Gordon can brag she has dedicated her career to serving in public and nonprofits for over 30 years. A graduate of Soldan High School, Gordon holds several degrees:
Bachelor of Science in Political Science/Pre-Law
Master's in Business Administration
Master's in Human Resource Management
Graduate Certificate in Entrepreneurship
Gordon is a lifelong mentor to young girls and women and serves on the Board of Directors for Girls in the Know and Big Brothers, Big Sisters of Eastern Missouri. As one of the authors of GRIT, Gordon is releasing an interactive book this fall while meeting the demands of an extremely hectic list of upcoming speaking engagements. BGCSTL President Flint Fowler said, "We're proud of Trisha and happy she has shared her story about the impact of SLIP. We hope others will follow Trisha's path and take advantage of SLIP and other Boys & Girls Club programs that will give them the tools and access they need for a great future. Trisha is a great example of that," Fowler concluded.