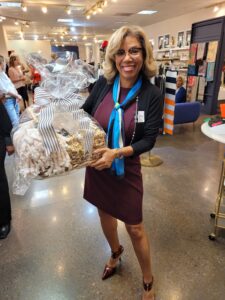 WLC Wednesday SNAPS!
This week we're giving snaps to Women's Leadership Circle leader Karen Middleton. She grew up in Saint Louis and remembers taking swim lessons at the Club.
Occupation: Bonds Trader
Favorite Children's Book: The Velveteen Rabbit
Favorite Snack: Chocolate covered strawberries
Pets: Pearl, 7-year-old Shih Tzu
Advice to yourself: Stay in the moment (you never know when a moment becomes a precious memory)
What do you want women to know about the WLC?
I want women to know that the WLC is an organization comprised of smart, creative, and driven women who are determined and committed to uplifting and improving the lives of the children of the Boys & Girls Club of greater St. Louis.
What is your favorite event, or memory from a WLC event?
My favorite event so far is our signature Table For 4 event held this year at The Ritz Carlton. The energy in the room was electric and our mission was clear…to give from our hearts so we can meet the needs of deserving and talented kids who simply need an opportunity to showcase their abilities.
Why do you support Boys & Girls Club of STL?
I support the Boys and Girls Club of St. Louis because I feel we are all here to serve and help those who we encounter on our life's journey. For me, that looks like giving myself, my time, and resources to better the lives of our youth.
Interested in learning more about the Women's Leadership Circle? Contact Failona Collins, Failona@bgcstl.org.