YOUTH OF THE YEAR WINNER ANNOUNCED AT BOYS & GIRLS CLUBS OF GREATER ST. LOUIS GREAT FUTURES GALA
 Michaelmonique Mayo Wins Youth of the Year, $5,000 Scholarship & A NEW CAR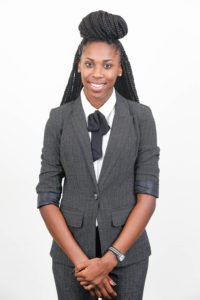 Boys & Girls Clubs of Greater St. Louis (BGCSTL) is proud to announce the 2018 Youth of the Year winner Michaelmonique Mayo! Being named Youth of the Year is the highest honor a Boys & Girls Club member can receive. The award is Boys & Girls Clubs signature youth recognition program that celebrates the recipient's contributions to their family, school, community, and Boys & Girls Club.
Michaelmonique Mayo also won the inaugural Wanda and Michael DeHaven Boys & Girls Clubs Youth of the Year scholarship in the amount of $5,000. And, a Honda Accord courtesy of Frank Leta Automotive Group, also a first for the Club's Youth of the Year! During her speech given at the organization's Great Futures Gala & 50th anniversary celebration, Mayo reflected on having to live out of a car earlier in her life – but now she is excited to own one!
As the new Youth of the Year and ambassador for the Boys & Girls Clubs of Greater St. Louis, this 17 year old Club member is a true example of an extraordinary young woman.  Now that she's won the honor, Michael Monique says, "I want to motivate youth to achieve their goals as well as encourage and set up programs for youth living in poverty." She is a senior at Roosevelt High School and plans to attend college and major in Photo Journalism.
Michaelmonique was selected from a group of fourteen finalists who shared their story of perseverance and dedication to their family, Club and community before a panel of judges who chose the winner.
"The Youth of the Year honorees are shining examples and living proof that great futures start at the Boys & Girls Clubs.  We are so proud of all of this year's participants who took the time to complete a challenging yet worthwhile process. All possess the ability and ambition to be successful, and, should be recognized for their leadership, service, academic achievements and commitment to live a healthy lifestyle," said Dr. Flint Fowler, President, Boys & Girls Clubs of Greater St. Louis.
The Youth of the Year program honors our nation's most awe-inspiring young people on their path to great futures and encourages all kids to lead, succeed and inspire.
Congratulations to all of the Youth of the Year top finishers listed below (pic attached, left to right):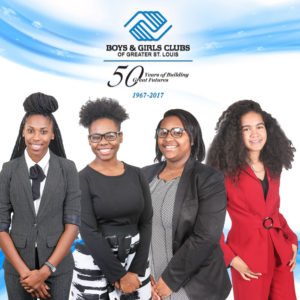 Youth of the Year Winner, Michaelmonique Mayo ($5,000)
4th Place Winner, Daija Glover ($500)
2nd Place Winner, Jennifer Sandford ($2500)
3rd Place Winner, Danielle Kain ($1,000)
The Youth of the Year competition included fourteen teenage finalists from various Boys & Girls Clubs of Greater St. Louis locations (top left to right):
Canada Turner; Daija Glover; Michael Monique Mayo; Saadiq Holsey; Danielle Kain; Kenya Johnson; Devin Smith; Akeylah Lester; Heavyn Borroum; Jordon Gates; Kahalia Adams; Aaryn Gardner; Jennifer Sandford; and, Dezmond McSellers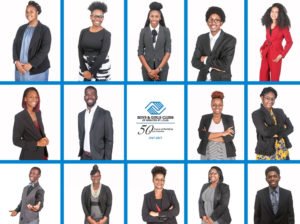 For more information on how the Boys & Girls Clubs of Greater St. Louis is helping our community, visit www.bgcstl.org.