Boys & Girls Clubs of Greater St. Louis Honors
Alumni, Board Members, Community Partners & Staff
at Annual Recognition Event
New Inductees into the Alumni Hall of Honor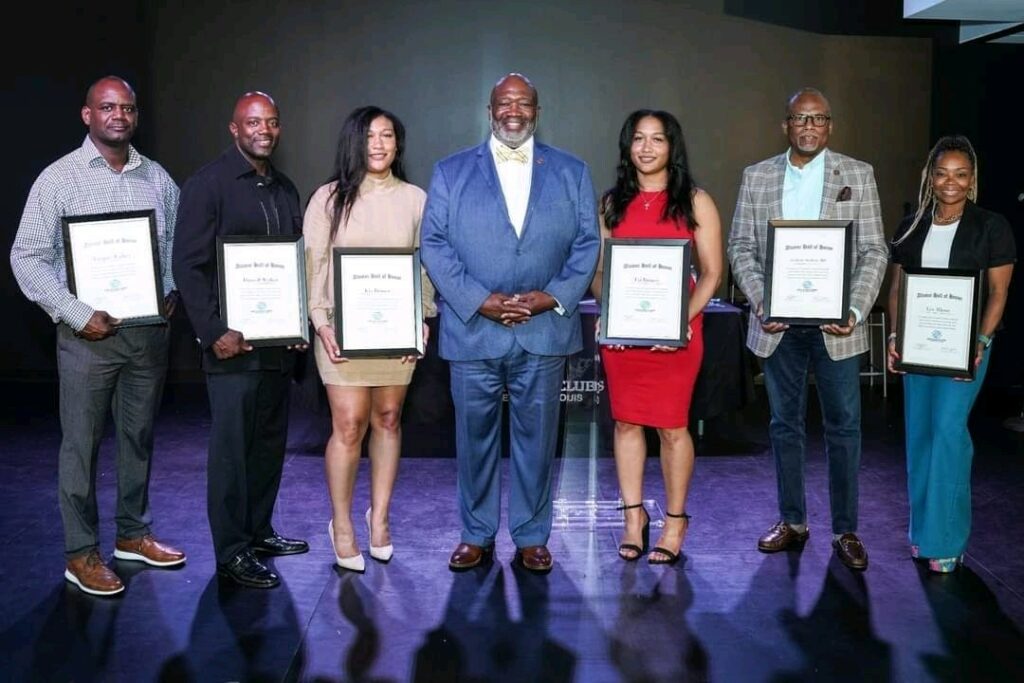 ST. LOUIS (June 8, 2022) – The Boys & Girls Clubs of Greater St. Louis (BGCSTL) is proud to announce the 2022 Annual Recognition event honorees and Alumni Hall of Honor inductees! Each year the staff, board members, volunteers and supporters are acknowledged and celebrated for their commitment to the Boys & Girls Clubs as well as the kids and teens that we serve.
The 2022 BGCSTL Alumni Hall of Honor inductees are L to R Marquis Walker, Darnell Walker, Kia Brimer, Dr. Flint Fowler (President, BGCSTL), Tia Brimer, Anthony Stallion, MD (accepting on behalf of his brother, Mark Stallion) and Eric Rhone (accepting on behalf of her husband, Angela Rhone). The Hall of Honor recognizes outstanding alumni for achievements in their respective fields, commitment to leadership, serving our community's youth, contributions to the St. Louis community and for living out the mission of the Boys & Girls Club. To view more photos, click here.
Additional categories and honorees for the evening were as follows (award descriptions below):
Richard H. Amberg Award Recipient – David Aplington (Presented to a Board member whose leadership and commitment has a profound impact on the Club's ability to achieve its mission.)
Capture the Vision Award – Ascension Charity Classic (accepted by Nick Ragone) – presented to an individual or organization who demonstrates their devoted service to the Club through tireless innovation.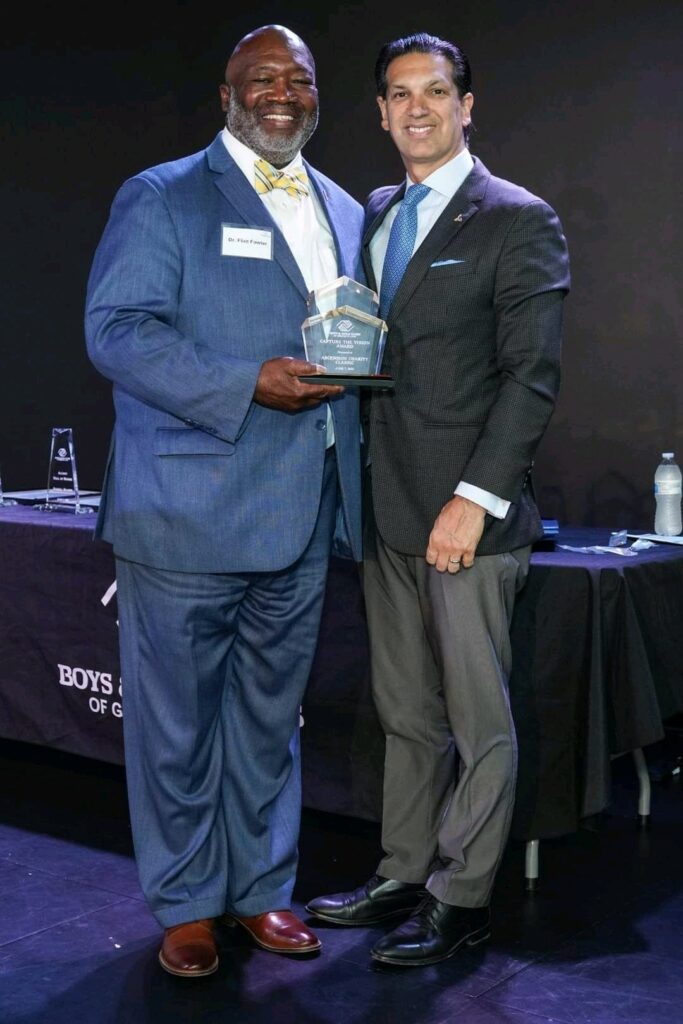 National Award of Merit (Individuals and organizations outside Boys & Girls Clubs that have provided outstanding support to local Clubs or the Movement.)
Dr. Chauncey E. Granger, Hazelwood East High School Principal
Cameron A. Coleman, Larimore Elementary School Principal
Grey Eagle Distributors, David Stokes
Heartland Coca-Cola, Travis Sarich & Matt Bynum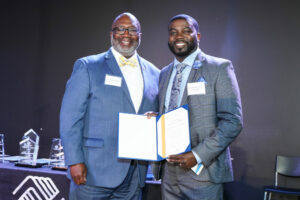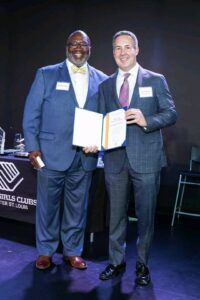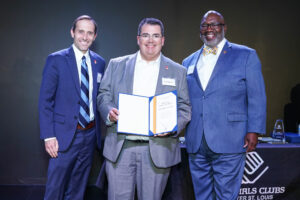 Service to Youth Award – Boys & Girls Clubs of Greater St. Louis Staff
(Board, volunteers and staff who have rendered long and devoted service (five years or more) to the Boys & Girls Club Movement.)
Five years:
Teri Bascom
Angel Jackson
Marla Jeffries
Regina Knapp
Melody Majeed
Brandy Sandford
Krystal Smith
Ten years:
Keisha Caruthers
Thirty years: Brenda "Joyce" Jones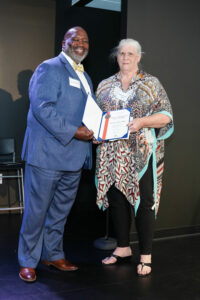 Service to Youth Award – Board and Life Trustees (Board, volunteers and staff who have rendered long and devoted service (five years or more) to the Boys & Girls Club Movement.)
David Aplington – 5 years
Gregg Berdy, M.D., F.A.C.S. – 5 years
Jennifer Call – 5 years
Mark Darrell – 5 years
Clive Grannum – 5 years
Michele Sowers – 5 years
Mark Stallion – 5 years
Keith Lueking – 10 years
John Biggs, Jr. – 25 years
BGCSTL President, Dr. Flint Fowler (reflecting on the annual event which has always been close to his heart) said, "It is an honor and privilege to recognize so many wonderful staff, volunteers and supporters for what they do to help our kids. It is particularly gratifying to acknowledge and celebrate the achievements of our amazing alumni and the contributions they now bring to the community because of the Club's impact on their lives. The Boys & Girls Clubs of Greater St. Louis is shaping the future of St. Louis by promoting the positive development of children and teens."
About Boys & Girls Clubs of Greater St. Louis
The mission of the Boys & Girls Clubs of Greater St. Louis (BGCSTL) is to inspire and enable all young people, especially those who need us most, to realize their full potential as productive, responsible and caring citizens. BGCSTL provides after-school, teen, sports and summer programs to youth across the Bi-State Region while also providing a safe place for them to learn and grow. The Clubs serve youth across the region at twelve locations, including (Adams Park Club, Boys & Girls Club of Bethalto, Boys & Girls Club of Lovejoy, Hazelwood Elementary School Club, Herbert Hoover Club, Mathews-Dickey Club, Normandy High School, O'Fallon Park Club, Riverview Gardens Club, Roosevelt High School, Hazelwood Southeast Middle School Club and the Teen Center of Excellence). We also operate Mentor St. Louis and the St. Louis Internship Program.
###