Boys & Girls Clubs of Greater St. Louis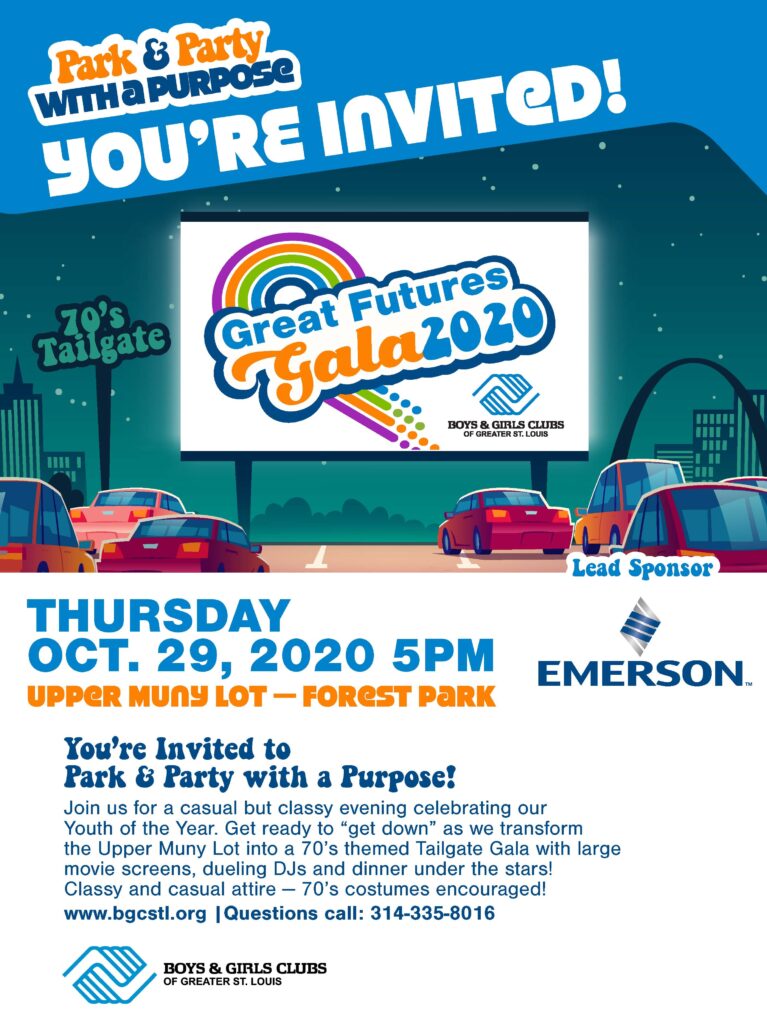 Annual Great Futures Gala Converted to Outdoor Tailgate
Park & Party with a Purpose
St. Louis, MO – September 2020 – The Boys & Girls Clubs of Greater St. Louis (BGCSTL) annual Great Futures Gala, will be held on Thursday, October 29 in the upper Muny Lot in Forest Park, tailgate and outdoor movie style.
The now outdoor gala will include all of the favorite elements of our past Galas, but under the stars. We're transforming the upper Muny lot in Forest Park to a 70's themed tailgate gala that will consist of a center stage with large outdoor movie screens, an emcee, dueling DJ's, musical entertainment and dinner. Within this enclosed area, people will enjoy our 2020 gala from the privacy and comfort of their cars allowing for more distancing in a safer social environment. Guests will hear the dreams and aspirations of these young leaders and stories of how Boys & Girls Clubs of Greater St. Louis has influenced their lives.
The "Great Futures Gala is the largest fundraiser benefitting youth at the Boys & Girls Clubs of Greater St. Louis and showcases the youth who embody the ideals of the Club's mission to realize their full potential as productive, responsible and caring citizens! Club teens and Youth of the Year candidates will share their stories of how the Club has impacted their lives throughout the evening followed by the selection of the 2021 Youth of the Year!
Event proceeds are used to send teens to the Boys & Girls Clubs of America Keystone Leadership Conference as well as provided support for the Diplomas to Degrees program, Mentor St. Louis, Keystone Clubs, Money Matters, and Career Launch programs. Thanks to our Lead Sponsor, Emerson Foundation.
Event Co-chairs: Lorenzo & Sheila Boyd, Matt & Linda Renner and Brad & Michele Sowers
If you'll be missing the celebration, we invite you to volunteer, donate, mentor or register your youth for membership. For ticket information, visit www.bgcstl.org.
Calendar Format
Boys & Girls Clubs of Greater St. Louis
Great Futures Gala – Party & Park with a Purpose
Thursday, October 29, 2020
5 pm
Muny Lot, Forest Park
www.bgcstl.org
About Boys & Girls Clubs of Greater St. Louis
The mission of the Boys & Girls Clubs of Greater St. Louis (BGCSTL) is to inspire and enable all young people, especially those who need us most, to realize their full potential as productive, responsible and caring citizens. For over 50 years, BGCSTL has been providing after-school, teen, sports and summer programs to youth in the St. Louis area while also providing a safe place for them to learn and grow. The Clubs serve youth across St. Louis City & County including Adams Park Club, Hazelwood Elementary School Club, Herbert Hoover Club, O'Fallon Park Club, Riverview Gardens Club, Hazelwood Southeast Middle School Club and the Teen Center of Excellence. We also operate dropout prevention programs within two High Schools (Normandy and Roosevelt High School); as well as the Mentor St. Louis and St. Louis Internship programs.
###