YOUTH OF THE YEAR WINNER ANNOUNCED AT BOYS & GIRLS CLUBS OF GREATER ST. LOUIS GREAT FUTURES GALA
Danielle Kain Wins Youth of the Year, $9,000 in Scholarships & A NEW CAR
Nearly 700 guests and $525,000 raised for Club kids!
Boys & Girls Clubs of Greater St. Louis (BGCSTL) is proud to announce the 2020 Youth of the Year winner is Danielle Kain! Being named Youth of the Year is the highest honor a Boys & Girls Club member can receive and a signature national youth recognition program that celebrates the recipient's contributions to their family, school, community, and their Boys & Girls Club. The winner was announced at the Great Futures Gala, the largest fundraising event for the Boys & Girls Clubs of Greater St. Louis which raised $525,000 for Club youth!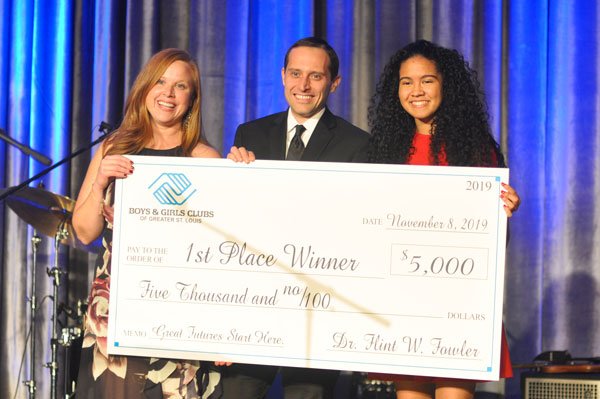 Photo: Check presentation to 2020 BGCSTL Youth of the Year Danielle Kain of the Michael and Wanda DeHaven $5000 Scholarship presented by Abby & Travis Sarich Daughter and son-in law of Michael and Wanda DeHaven
Danielle, age 16, is a junior at MICDS and has been a member of BGCSTL Ferguson Club for eight years. In addition to winning the Youth of the Year title and honor to represent the Club as a Teen Ambassador, she received the Michael & Wanda DeHaven $5,000 Scholarship, the Missouri State University Youth of the Year $4,000 scholarship, a celebratory dinner courtesy of the Saint Louis Club and a car provided by Frank Leta Honda! Danielle plans to become an Aerospace Engineer post college.
Most days at the Club you can find Danielle engaged in the Music Studio or Robotics/STEM programs. She says the Club has been a constant source of support throughout her journey. During her eight years at the Club Danielle has won the BGCA Hank Aaron Scholarship Award, allowing her to purchase STEM materials and equipment to provide sessions for elementary, middle, and high school club members; she participated as a teen panelist at Harris Stowe State University's Spark the Mind Advancing the Agenda for African Americans in STEM event, which led to her unforgettable personal meeting of Aprille Ericsson, current aerospace engineer for NASA; she competed for the nationwide 2019 STEP Ahead Awards and won 1st Place in the high school division, which included an all-inclusive trip to Washington, D.C; and, spoke at several events sharing how the Boys & Girls Clubs has impacted her life. She also received the Joan Ellyn Silber Award for Volunteerism and Leadership!
"The Youth of the Year program honors our nation's most awe-inspiring young people on their path to great futures and encourages all kids to lead, succeed and inspire. All of the honorees are shining examples and living proof that great futures start at the Boys & Girls Clubs. We are so proud of all of this year's participants who took the time to complete a challenging yet worthwhile process. All possess the ability and ambition to be successful, and should be recognized for their leadership, service, academic achievements and commitment to live a healthy lifestyle," said Dr. Flint Fowler, President, Boys & Girls Clubs of Greater St. Louis.
Congratulations to all of the Youth of the Year top finishers listed below (left to right):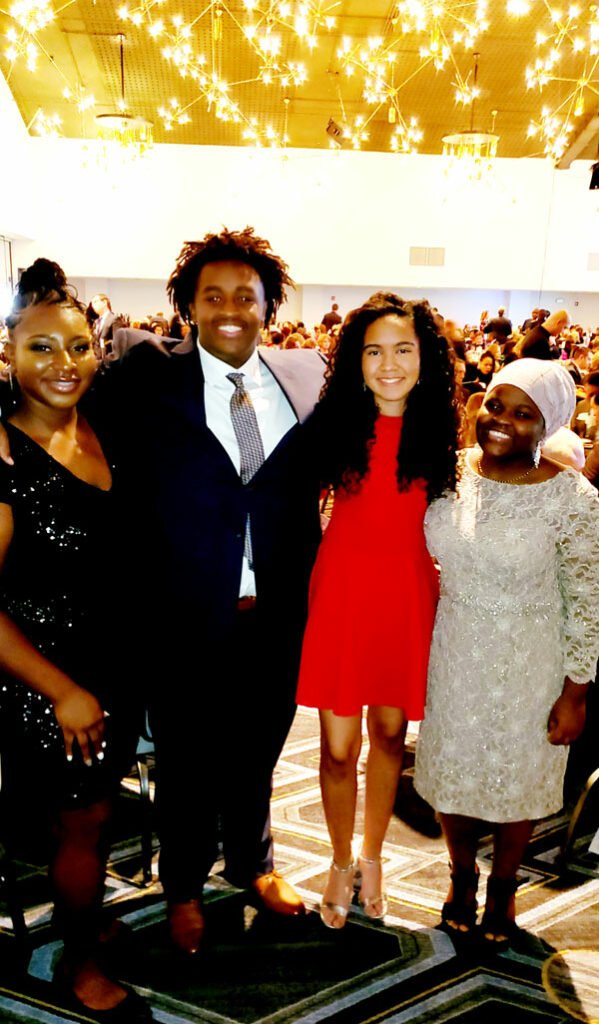 2nd Place winner receiving the $2,500 Emerson Scholarship is Herbert Hoover Club member, Kahalia Adams!
3rd Place winner receiving a $1,000 Scholarship is Be Great: Graduate Roosevelt High School Club member, Alex Mugisha!
2020 Youth of the Year Danielle Kain
4th Place winner receiving a $500 Scholarship is Be Great: Graduate Roosevelt High School Club member, Fatuma Euli! Congratulations!
Special thanks to the Great Futures Gala committee including Co-chairs – Keith & Andrea Lueking, Rufus & Mercia Moore and Jim & Mindy Watson. And, to the following sponsors for their support: Lead Sponsor, Emerson Foundation; Presenting Sponsors, Centene Charitable Foundation, Dowd Bennett, LLP and Midwest BankCentre; Great Futures Sponsors, Argent Capital Management LLC, Express Scripts and Stifel Nicolaus; Youth of the Year Sponsors, Ameren, Anthem Blue Cross Blue Shield, Ascension, Bayer, Bryan Cave Leighton Paisner, LLC, Enterprise Holdings, EY, Greensfelder Hemker & Gale, P.C., Laborers' Local 110, Paul & Laura Miller, Spire Energy, St. Louis Cardinals, Thompson Coburn LLP and U.S. Bank. And, a host of table sponsors.
To view photos from the evening, click here.
Event co-chairs, L to R
Rufus & Mercia Moore, Boys & Girls Clubs of Greater St. Louis president Dr. Flint Fowler, Jim & Mindy Watson and Keith & Andrea Lueking